We highly recommend to use the STRETCHING method to model your kitchen.
This method is accessible in 2D or 3D mode, from the menu :
- FURNISH
-- KITCHEN
--- QUICK KITCHEN BY STRETCHING.
Choose your FURNITURE TYPE
Select a type of furniture from the drop-down list:
- base cabinet
- wall cabinet
- high cabinet ...

Note :
- There are base cabinets of different depths
- There are wall cabinets of different heights
- There are high cabinet of different heights and depths.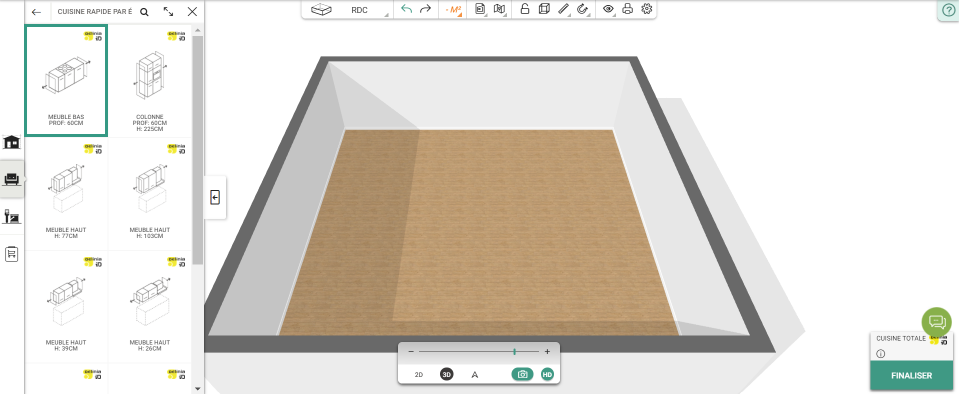 Choose your AMBIANCE
Different ambiances are available : this is a combination of fronts, worktops, plinths and handles. You need to select one of them, then validate at the bottom right.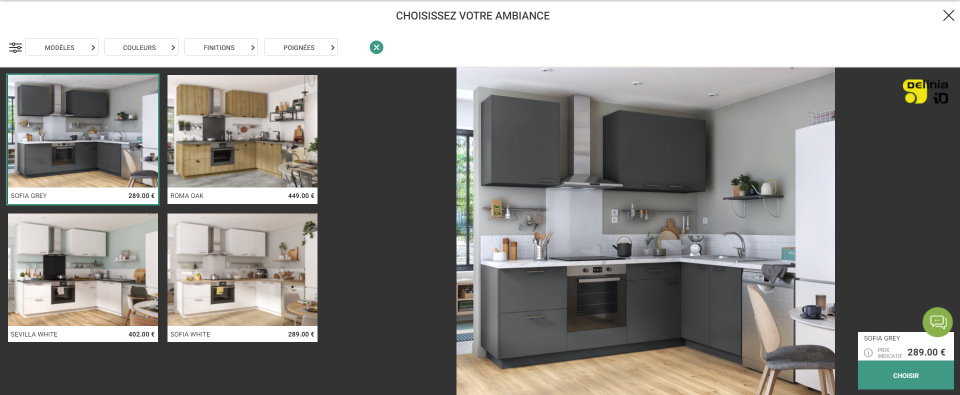 To help you in this choice, you can use the filters :
- Models
- Fronts colors
- Finish: matte or glossy
- Handles : with or without
The green cross resets the filters.
Note: The chosen ambience for the first set will apply to the following ones, but you can change the style of the kitchen at any time: globally, set by set or by cabinet.
Tip: It is also possible to mix the ambiances, and customize entirely of your kitchen.
> change the style of a cabinet set
> customise the style of a cabinet
Choose your EQUIPMENT
Then you can select the various equipment according to the chosen area.

Example of a base cabinet set :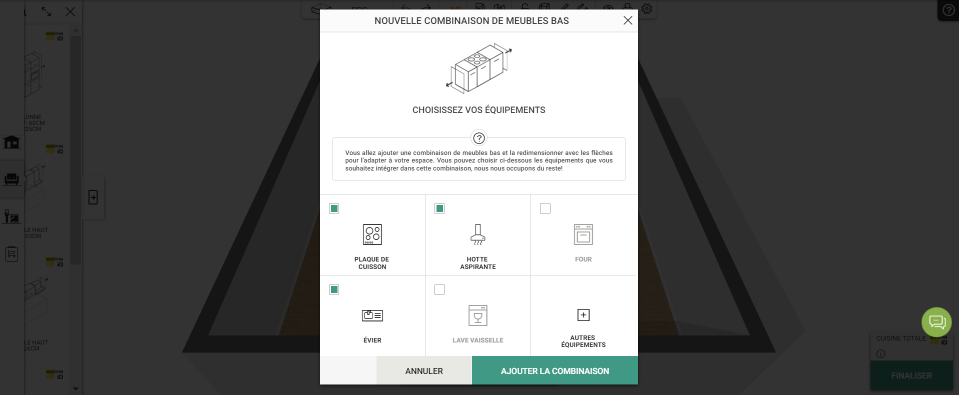 Validate by clicking on Add the set.
Tip: If you know the position of your water and cooking networks, it is better to place them in your plan. This will allow us to position the sink and/or the hob in the centre of these systems at the stretching of a set of base cabinets.
> more informations about kitchen networks
PLACE YOUR KITCHEN
Drag the cabinet set represented in blue :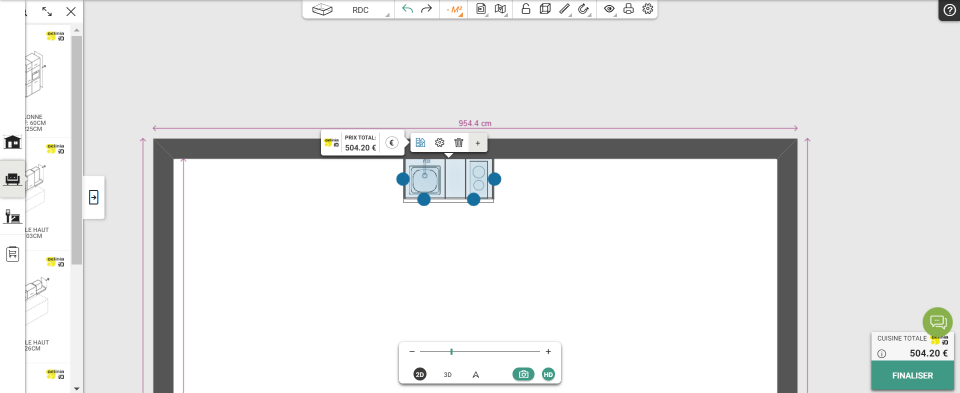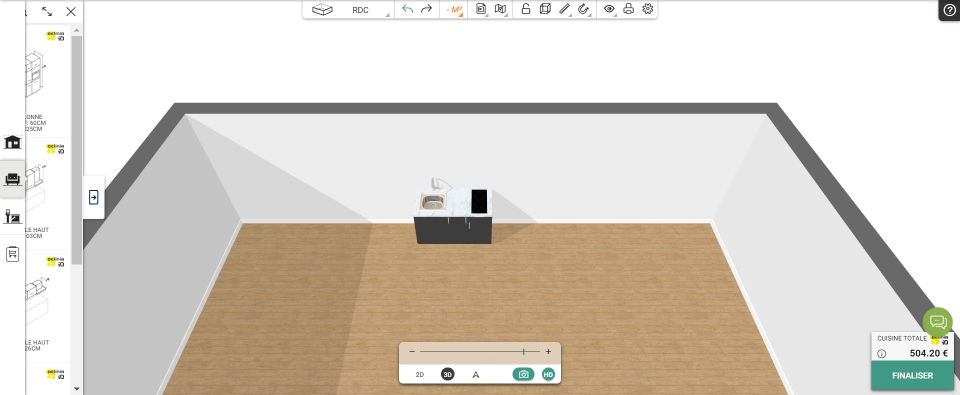 Tip: If you move the set close to a wall, it will turn around to magnetize with the wall.
Note: In case of your set is not magnetized to a wall, the blue circle and its arrows allow you to rotate the set.
STRETCH YOUR KITCHEN
In 2D, you can stretch your kitchen by using the blue handles at the ends. To do so, click on an end and drag your mouse to the desired location.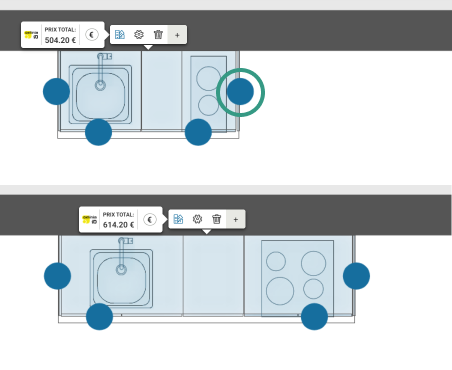 In 3D, you can also stretch with the arrows at the ends in the same way as in 2D: select the set and click on the arrows to stretch your set.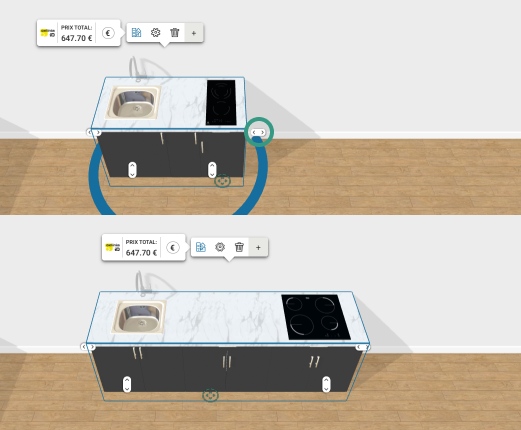 STRETCH YOUR CORNER KITCHEN
In 2D, you can stretch your kitchen into a corner using the blue points. You can then create L or U shaped kitchens.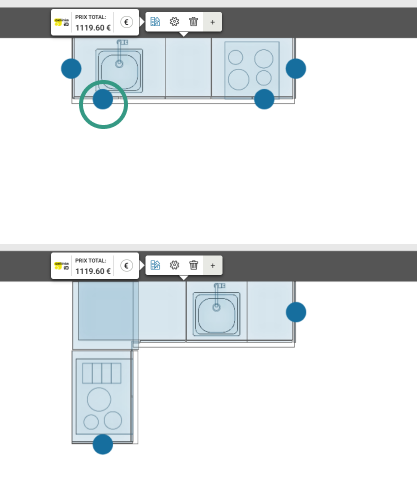 In 3D, you can also stretch your corner kitchen.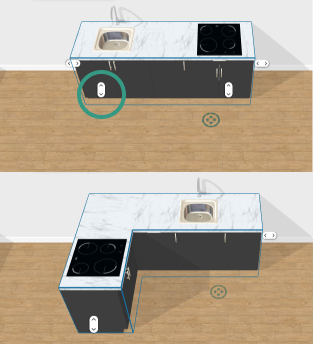 Repeat the same process to make a U-shaped kitchen.