When stretching a cabinet set, we suggest a serie of cabinets.
We try to place them as good as possible according to the constraints of your plan (position of your windows, position of your networks...), and to the kitchen rules that we have integrated (distance from the wall to some equipments or at the end of work plans, distance between some equipments...)
It is possible to customize this serie by moving a cabinet inside of the cabinet set.

To do so, select the cabinet in 3D : then using the circular icon on the front of the cabinet, drag and drop the cabinet to the desired location.
Note: moving a cabinet outside a cabinet set is possible. This action is similar to deletion.
A single cabinet can be moved in the plan like any other object.
A cabinet in a set of cabinets can be moved. A selection window will display to refine your choice:
"You are about to remove a cabinet from the cabinet set. Do you want to remove it and leave the space free or remove it and move the other cabinets?"

Delete a cabinet and leave a free space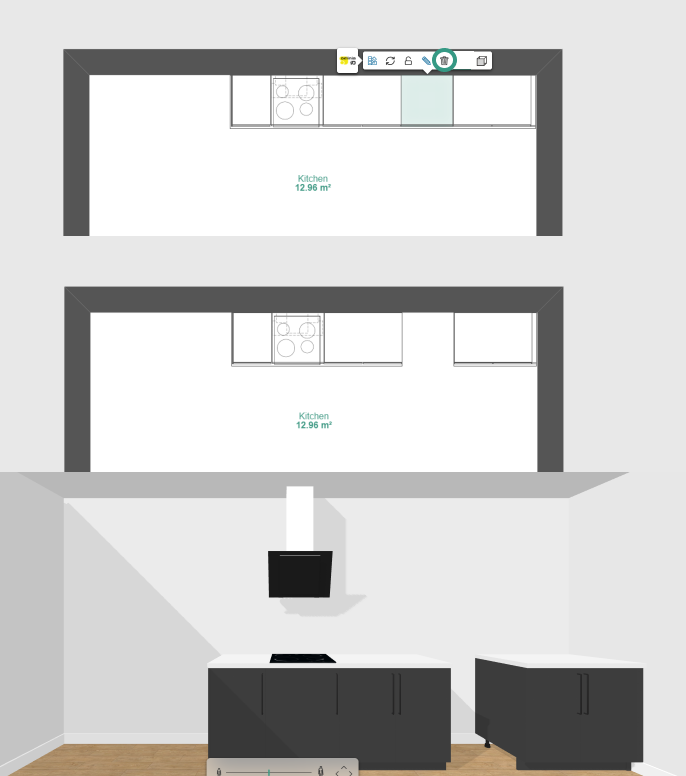 Remove a cabinet and move the others