Creating a free space in a set allows, for example, the placement of non-integrated appliances.
Creating a FREE SPACE without a worktop
The best solution is to create a complete cabinet set.
Place a cabinet with the desired width in the location of the future free space.
Then delete it (when the warning "You are about to remove a cabinet from the cabinet set (...)" appears please select "Delete" and not "Delete and fit")
Create a FREE SPACE with worktop
Add a NON-INTEGRATED DISHWASHER in a set of low cabinets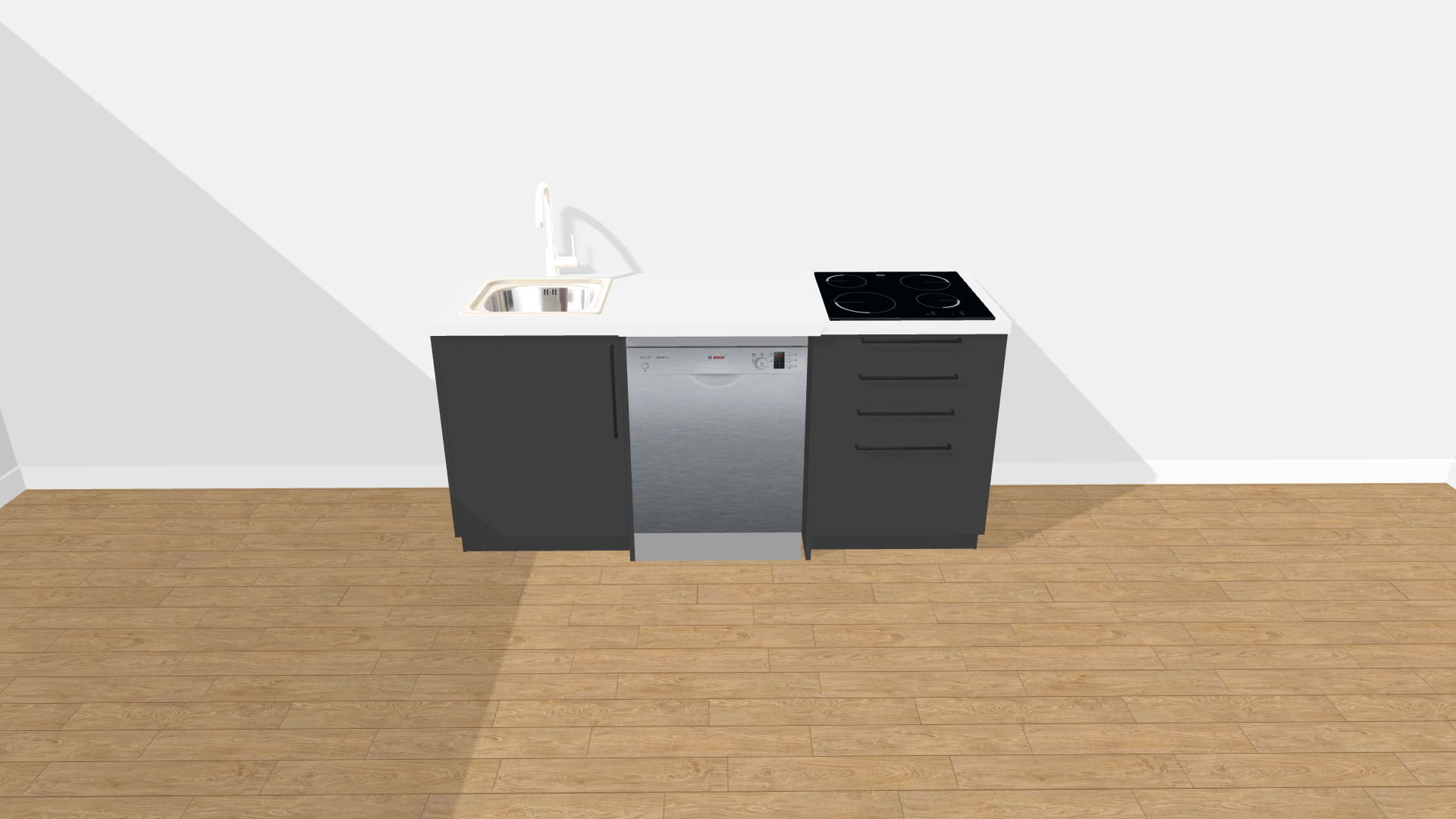 To position a non-integrated dishwasher under a worktop, you need to :
- Position a low cabinet with an integrated dishwasher
- Make a "replace by" in order to replace the dishwasher by a free space.
A free space is composed by two side panels and a worktop.
It exists in two widths: 45 and 60cm.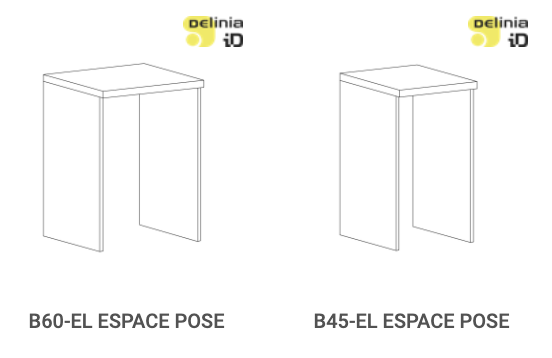 Beware of multiple side panels : if your free space is at the end of the cabinet set
Tip : this free space can also be used to integrate a washing machine.
Create a FREE SPACE between two high cabinets
To integrate a free-standing refrigerator, it is common to create a composition of high cabinet / free space + wall cabinet / high cabinet.
1st solution :
We advise you to model a set of 3 high cabinets (or more), and to remove the central high cabinet leaving a free space: this will be the right width of 60cm, to accommodate a refrigerator and a wall cabinet.
2nd solution :
If the space between these two columns does not correspond to that of a column, you can also stretch a linear of 2 columns and then move one of the columns to place it at the distance of your choice.

To do so, click on the column and a green outline will appear. You can remove it from the cabinet set and move it.
It is then possible to determine the exact distance between these two cabinets. Click on the pencil in the context menu and open the "Position" tab.
By selecting the position of the box in relation to an object, you can then specify the distance to the other column.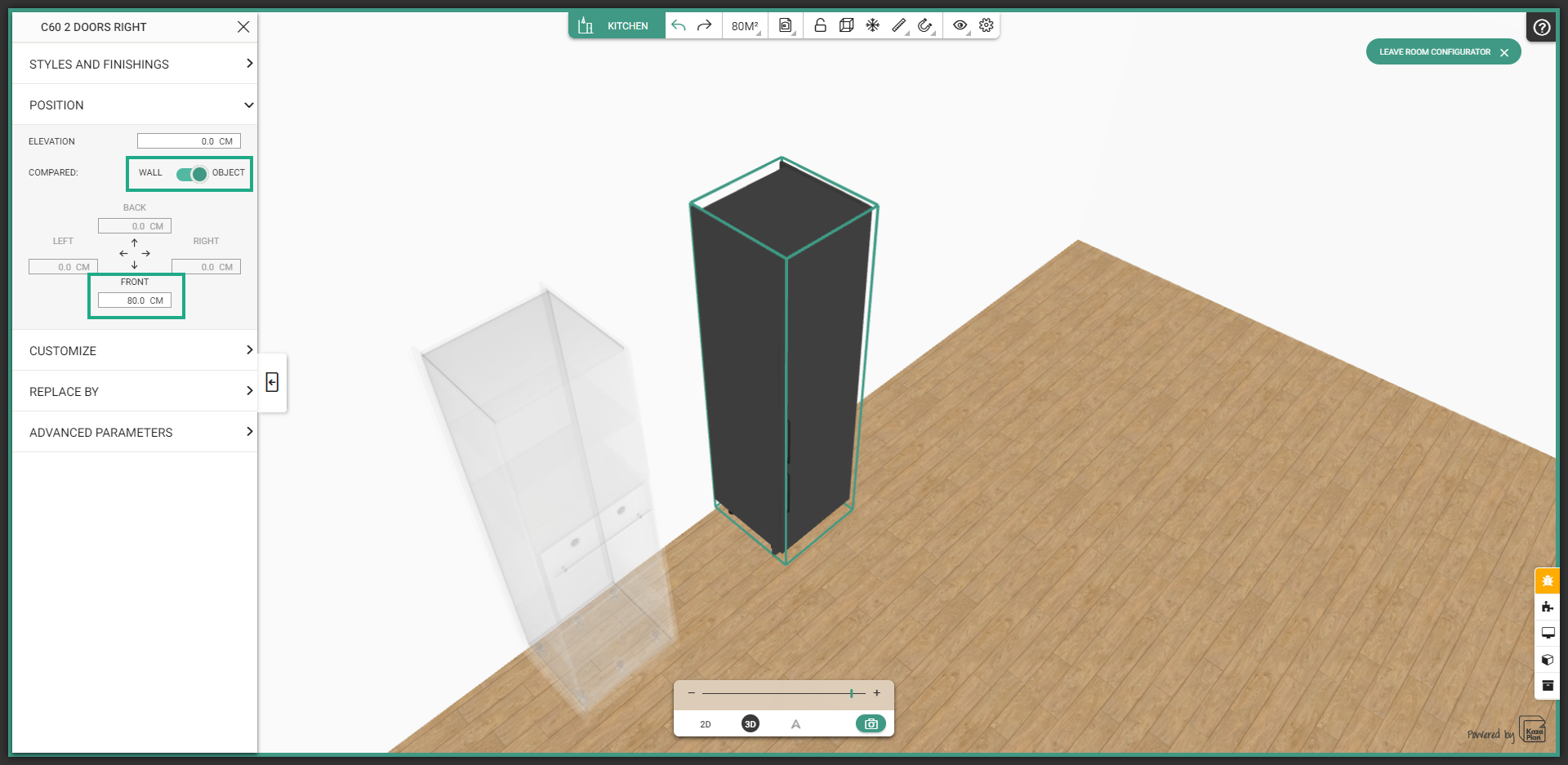 This method allows you to display the dimensions in frontal view but also in 2D, unlike the cabinet-by-cabinet method.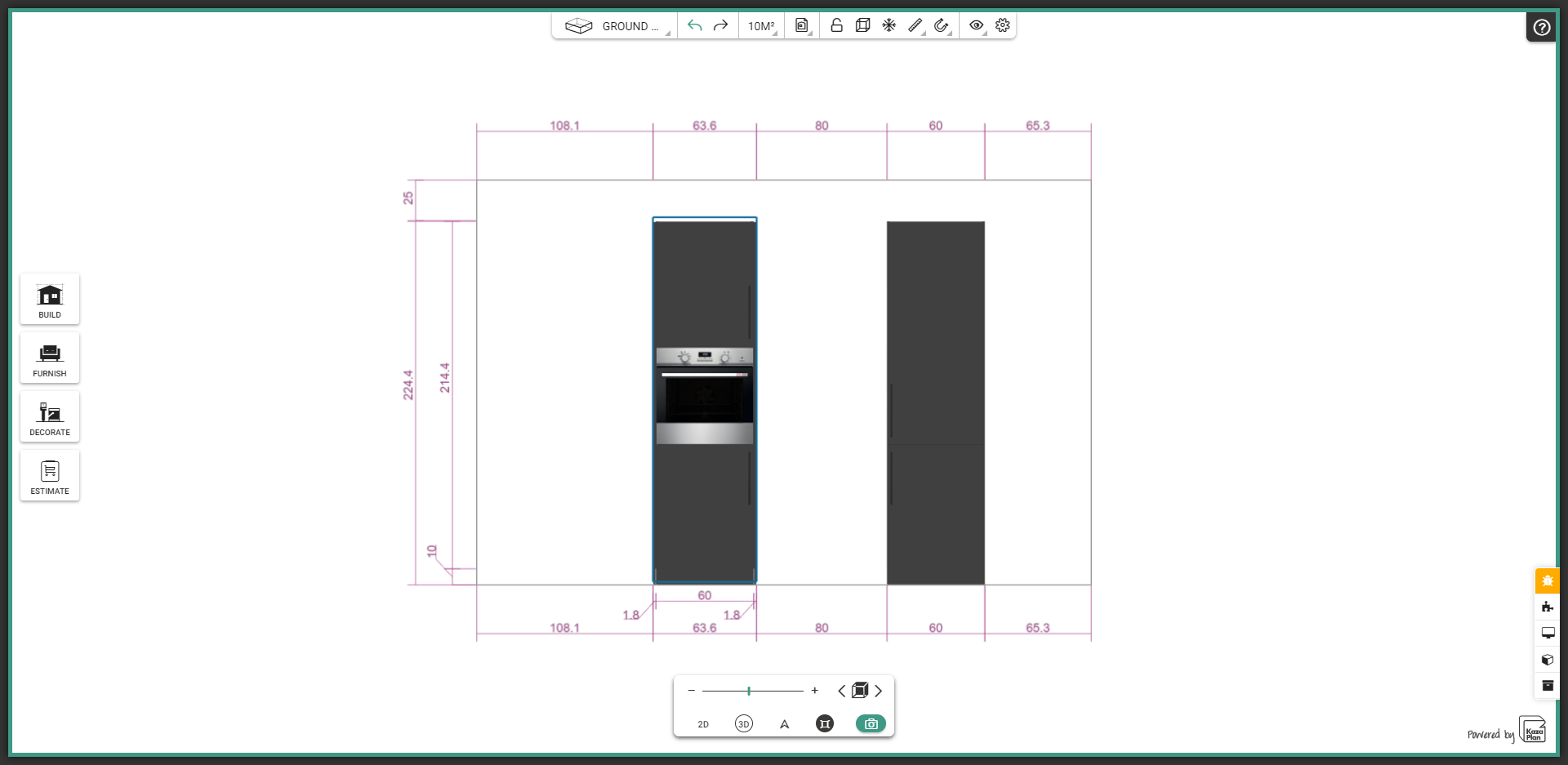 - Adding wall cabinets above a high cabinet
It is possible, in order to optimise storage, to add wall cabinets on top of a high cabinet, don't hesitate to use the ALT key to help you.
Tip: the ALT key suspends the magnetism between objects until the cabinets are placed
- Place wall cabinets on top of each other
It is possible, to optimize the storage, to superimpose high furniture, do not hesitate to use the ALT key to help you.
Tip: the ALT key suspends the magnetism between objects while you position the furniture.
CUSTOMISING WALL CABINETS
It is possible to customise your set of wall cabinets as you wish:
> Vary the height of the cabinets
> Vary the elevation of the cabinets